Welcome to Harvard Club of Phoenix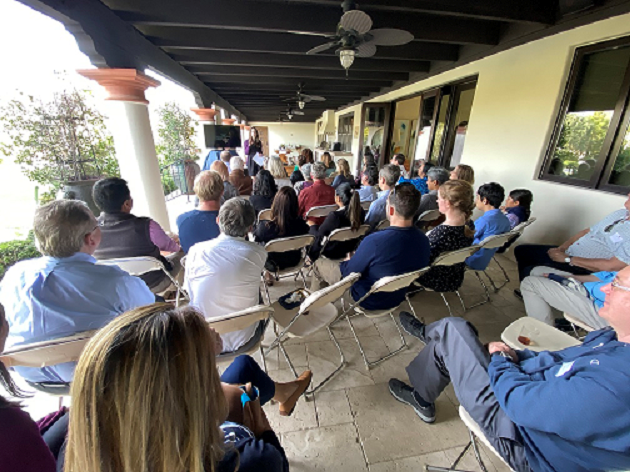 PRESIDENT OF HARVARD BOARD OF OVERSEERS MICHAEL BROWN ATTENDS HCPHX Community Service Fellows Wrap Party
Margaret Rennix, Ph.D., and 2019 Undergraduate Summer Fellows Speak to Volunteers and Donors - Plans in process for Summer 2020 and beyond
Rennix Ph.D. 2015 tells of how she was drafted into 'credible fear' reviews on a visit to her sister; puts practices in conversation with broader state and border theory. Undergraduates Kim and Venkataramanan report findings, show deliverables, describe paying forward the opportunity of border research. Fellow Vongdara sends her completed film, Hollingsworth (already graduated) sends journal of poems.
Overseer Michael Brown is shown in the photo at the extreme left in a blue shirt. Mr. Brown has driven Harvard's pivot toward creating opportunities for undergraduats in community engagement wherever their interests lead them.
If you are interested in offering your time and expertise to our Summer Fellows program of 2022, please write us at harvardclubofphoenix@gmail.com. Donations are welcome. Read more and contribute on this website or here.
Upcoming Events
Upcoming Events Below
Upcoming Events Below
6:00PM Mon 12 Jul 2021 - 9:00PM Sat 11 Dec 2021, America/Phoenix timezone

6:00PM Sun 20 Jun 2021 - 11:59AM Fri 31 Dec 2021, America/Phoenix timezone

5:30PM Mon 14 Jun 2021 - 7:30PM Fri 22 Oct 2021, America/Phoenix timezone